Welcome to Focus High School
Welcome to Focus High School
Our school was founded by a group of philanthropic businessmen and professionals who wanted to provide access to high quality, holistic education in the Old City of Hyderabad. Several members of the group have now become parents and staff members of the school.  We opened our doors on 17 June 2013.
Our teachers and staff are caring, motivated, and skilled. They are themselves life long learners, and they create an environment that encourages children to inquire, think, collaborate, and take action.
At present, we have two campuses, with primary classes at Noor Khan Bazar and secondary classes at Darushifa. Our infrastructure is designed for safety and it supports effective teaching and learning.
Our school serves students of all communities, socio-economic backgrounds, and ability levels. We have co-education along with a strong emphasis on inculcating values and ethics. We hope to 'create a better, more peaceful world', starting with the Old City of Hyderabad.
We welcome parents and visitors to meet our staff and see our learning spaces.  Every Wednesday at 3:30 PM, it is open house so that parents and community members may interact with teachers and leaders conveniently.
"The school has built a stimulating learning environment based on understanding and respect throughout the school community."  Rachna Johar, Authorisation Team Leader, International Baccalaureate Organisation
A community of life-long learners…
Education is arguably the most important function of human societies.  Our school is a community that engages all stakeholders in the pursuit of knowledge.  Focus students do not simply consume knowledge produced by others; rather they create understanding and develop skills such as inquiry, reflection, self-management, collaboration, and listening.  We expect our students to be active, committed participants in the dialogue of human civilisation. In fact, guests who interact with our students are always impressed with the questions and energy of the children.
Focus High School's teachers are the exemplars of life-long learning for our students.  Each year we organise and take part in numerous seminars for professional development. Teachers are encouraged and supported to pursue courses and conferences that will help them to inspire children to greater heights.  We are blessed to have in our faculty a CENTA certified teacher, an all-India topper in the Teaching Professionals Olympiad, and dozens of teachers pursuing higher degrees and certificates in their subjects.
A centrepiece of our learning community is an internship programme through which we induct new members into the teaching profession with the guidance and support of lead teachers.  Almost every lead teacher is assisted by an intern so that they can focus on students' needs and differentiation in the classroom. The intern system has injected a spirit of growth and dynamism within our faculty and transformed the quality of instruction.
No school community is complete without parents and the extended family. Parents help children in our guided reading programme, interact with students as guest teachers, and give their valuable feedback in the Parents' Committee.  We welcome their involvement and commitment to the cause of education.
"I work with the leaders and teachers at Focus HS. The sheer zeal, investment and culture of the school motivates me to push the teachers and school leaders to the next level." Nikhat Aga, Senior School Manager, 3.2.1 Education Foundation
Holistic education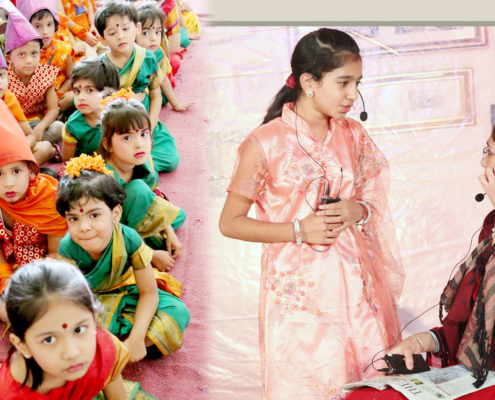 With roots in the oldest spiritual traditions, Focus High School seeks to orient children on a path of limitless possibilities.  As educators in this tradition, we do not limit ourselves to textbooks and examinations alone. Rather, we strive for the holistic development of children, within the framework of the International Baccalaureate Primary Years Programme and the Telangana State secondary curriculum.  Focus High School is the only IB authorised school in the Old City, a significant accomplishment given IB's rigourous standards.
To provide space for holistic development, our accomplished teachers guide students in Visual Arts, Sports, a variety of clubs, and Bharat Scouts & Guides.  At least once a week, students speak and perform in lively group assemblies.
"Truth alone triumphs; Through truth the divine path is spread out by which the greatest sages, reach the supreme treasure." Mundaka Upanishad
"Time is witness that humankind is in abject loss, except those who have faith, do righteous deeds, enjoin one another to the Truth and enjoin one another to patience." Qur'an
Critical and creative thinkers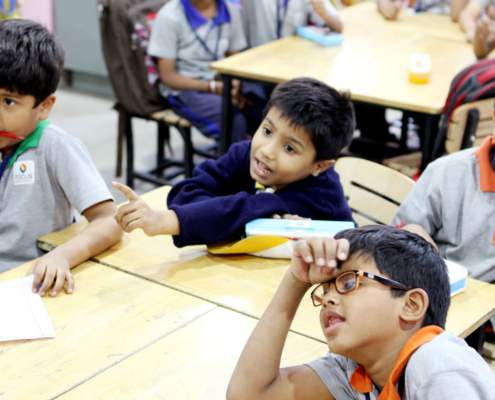 In an age that is flooded with facts and information, conceptual understanding is what children need most to flourish.  Focus teachers strive tirelessly to stoke curiosity in children's minds and to arrange thought-provoking experiences.
Primary students visit fascinating places such as the Masqati Dairy Farm and the Don Bosco Children's Home.  High school students attend debates at the Legislative Assembly and explore the Active Farm School at ESCI, among other sites.
We recently began a ground-breaking effort in high school to ensure mastery of concepts and skills by every student.  Mastery based learning builds confidence and forms the basis for critical and creative thinking.
In all aspects of work at Focus, we expect students to meet standards of academic honesty.  Teachers train children and give them confidence to speak and write in their own voices.
Our school nurtures and challenges the high achieving students by encouraging them to participate in various interschool events. Recently, a group of teachers and students has embarked on field visits and hands-on training to learn all about HAM radio operation.
"The students exercise their participatory rights assertively, effectively, and candidly. I love the rigour with which your faculty creates and maintains an interactive culture in the classroom. I left with more learning." Nihal Kovvali, Advocate and guest speaker in C3
Principled and compassionate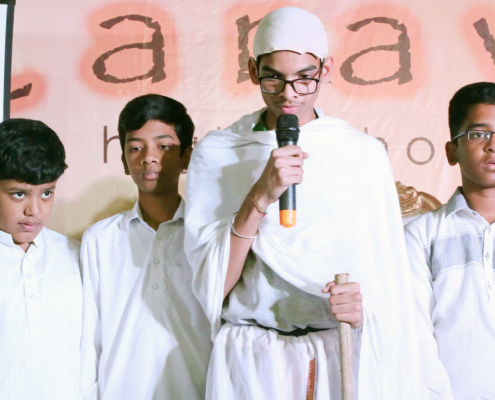 While academic subjects can often be explained to students, character and values are transmitted by living example, human bonds, and outstretched hands.  We seek to inculcate a sense of justice and responsibility in children through a system of student leaders. These leaders serve in class and school councils whose aim is to identify and solve problems. Resolutions of our Student's Parliament are deliberated on by the school's leadership team and often translated into practice. We have a Bharat Scouts & Guides chapter that gives further opportunity for children to explore ideas of citizenship and service. They raise their own funds (usually by selling various delicacies!) for a feeling of self-reliance.
Even primary students are expected to transform lessons learned into impactful actions.  Teachers and parents frequently record anecdotes of children visiting a sick relative or using simple machines to solve problems, thus building on ideas explored in lessons.
In our school, the living examples of good character are our staff themselves. Through constant training and reinforcement, everyone, whether ayah or clerk, is reminded that they are first and foremost teachers. Class teachers and counsellors have the direct responsibility to groom students and help them reflect on their character development. Our class teachers routinely invent creative ways to motivate and teach self-discipline, all with the power of their outstretched hands and big hearts.
"Our school provides quality education with all the life skills.  Teachers here care for students and treat them as family. Every student is equal" Student of Class 5
Physically active and future ready
Being in the centre of a metropolis has its challenges.  But, we make every effort to see that our students are on the path of active living.  Passionate PE teachers leave no stone unturned to conduct creative fitness activities in our auditorium. They train students at municipal grounds and conduct interschool matches. Football is the local favourite, but our staff also pushes students to explore tai chi, yoga, rifle shooting, and, of course, cricket.
Our counsellors complement the PE teachers' role by involving parents in nutrition programmes.  Each year, we conduct medical screening to raise awareness of parents about healthy and active living habits.
With an eye on the future, our counseling team assesses high school students' aptitude and personality. On this basis, we meet with parents and students to help them chart out their path after passing out from Focus High School.
"I've had a rich and lovely experience of both morality and enhanced education from this school.  I was one among the bright students who received quality education from this school and I'm proud of it." Aleemuddin of SSC 2016 batch
Accessible to all
In India, access to world-class curricula such as International Baccalaureate is extremely limited because the only schools offering them are privately and commercially funded.
Our school seeks to widen access to IB programmes in several ways. First, our fee structure is such that large numbers of common people can afford the costs.
Second, our school is located in the heart of the city and is designed as a neighbourhood school to which children can walk instead of traveling for hours.
Third, our school is a coeducational and secular school that invites students of all backgrounds. Students do not feel excluded by religious affiliation, language, disability, or gender. We admit and support students with a variety of disabilities, including partial blindness, effects of premature birth, and dyslexia. Although we have not achieved the level of linguistic or religious diversity that we had hoped, we have made a beginning and actively work towards this aim.
To widen access even further, we have established a bridge school in which children facing the greatest challenges are groomed and prepared to enter mainstream classes. The bridge school is located behind the Noor Khan Bazar Campus and has mixed-age classes, following the Montessori method.
"The school provides open access for students to the programme and makes holistic education accessible to children for whom quality schooling is rarely available." Rachna Johar, Authorisation Team Leader, International Baccalaureate Organisation